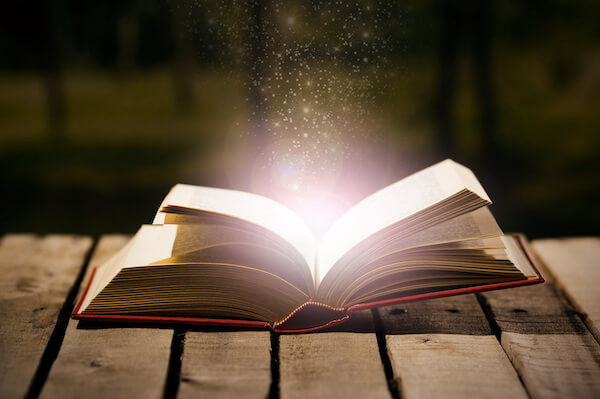 You've read them before, even if you didn't realize you were reading them. They're tropes—plot devices that link stories in commonality and convention. Tropes form a pattern for readers and help with expectations. They're used so often in fiction (not just books, but movies and television) that readers view them as commonplace.
But why would writers want to employ storylines so often used? It turns out there's comfort in familiarity. Readers like consuming similar (but not identical) books. Stories that fit the mold appeal to readers because they know what to expect. In a wildly saturated market where tens of thousands of books are released each year, choosing a book you know you'll enjoy is reassuring.
Tropes are often linked to a genre, meaning some use them more than others. Many people wouldn't consider a genre a genre without a few predicted tropes. One genre notorious for tropes is Romance (see below for examples). Other genres, like Science Fiction and Historical Fiction, are known for specific tropes that relate to what readers expect from that storytelling style. Sometimes tropes will overlap, and a book will have more than one, for instance, a Chosen One and Rags to Riches mashup. Some tropes just work together, while others are better solo.
Are you curious if your idea fits into one of these categories? Here are a few popular tropes to jumpstart your creativity:
1. Friends to Lovers
This trope is self-explanatory. Two characters start platonic, and then through the course of the book, their relationship turns romantic. In the Romance genre, readers love this hugely popular trope.
Examples: People We Meet On Vacation by Emily Henry, Dear Emmie Blue by Lia Louis
2. Enemies to Lovers
On the flip side, these characters begin as rivals or enemies, only to later overcome misconceptions or differences to fall in love. This trope is equally beloved by readers as Friends to Lovers.
Examples: Red, White & Royal Blue by Casey McQuiston, The Unhoneymooners by Christina Lauren
3. Second Chance
This trope is often associated with the Romance genre, where two characters reconnect for a second chance at love. However, other genres unrelated to romance stories use it as well. For instance, a protagonist gets another shot at their goal in sports or business.
Examples: You Deserve Each Other by Sarah Hogle, Clap When You Land by Elizabeth Acevedo
4. The Chosen One
In this trope, the main character represents the ultimate hero of the story and must overcome the enemy or save the world. Often, they are the reluctant hero. Sci-Fi/Fantasy, Magical Realism, and Action/Adventure stories frequently use it.
Examples: The Hunger Games by Suzanne Collins, Harry Potter by J.K. Rowling, Cinder by Marissa Meyer
5. Found Family
Also known as "Family of Choice," this trope has a character or characters who find a familiar bond beyond bloodlines. It stresses the power of friendship and community as bonding people through shared experiences and connection. These stories are common for powerless characters who understand that love and family are achieved in unique ways.
Examples: Some Mistakes Were Made by Kristin Dwyer, Gallant by V.E. Schwab
6. Star-Crossed Lovers
In this trope, two doomed lovers are kept apart, despite their desire to be together. It is the Romeo and Juliet category. Prevalent in YA, many of the characters are teenagers. A sub-trope is Opposite Attract, which plays into the forbidden or unexpected love aspect.
Examples: The Fault In Our Stars by John Green, The Seven Husbands of Evelyn Hugo by Taylor Jenkins Reid
7. Retelling/Reimagining
These books take a well-known story and retell it in a new way. They often use fairytales or literary classics that readers love for their sense of nostalgia and whimsy. You've probably seen or read dozens of Jane Austen retellings!
Examples: A Court of Thorns and Roses by Sarah J. Maas, Hester by Laurie Lico Albanese
8. Return to Small Town
As its name suggests, this trope features a character returning to their past, often a hometown, to rediscover themself and mend old relationships. The "going home" theme is often present in romances and light chick lit.
Examples: The Bodyguard by Katherine Center, The Hometown Dilemma by Julie Archer
9. Rags to Riches
Based on the eternal quest for the "American Dream," these stories center on a protagonist (often young) who overcomes obstacles, despair, and poverty to a triumphant conclusion. A true success story, it often deals with class issues and the idea of following your dreams.
Examples: Pygmalion by George Bernard Shaw, Cinderella, Annie
So, should you use tropes in your writing? The answer isn't a clear yes or no. Tropes are a great starting point for brainstorming and plotting your story, but authors should be careful not to overuse them—one or two is plenty. Likewise, because tropes are used so often, it's essential to ensure your plot is fresh and not already done. Readers like recognizing tropes but don't want them to be too predictable. So, take a trope and put your unique spin on it. Ultimately, reader taste is subjective—some find tropes fun, and others think they're cliche. As the author, you should write what feels right for you and your story and use this abbreviated list as a guide, not a command. Research more tropes for your genre—there are endless!