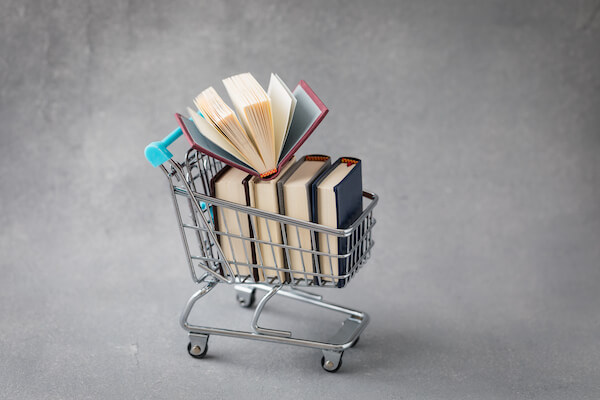 What Is Book Marketing?
In a broad sense, marketing refers to promotional activities to help sell a product. For book marketing, the same is true: The goal is to sell more books and reach more readers. Through public relations, advertising, and good old-fashioned word of mouth, marketing raises awareness among booksellers and consumers.
Why Should You Market Your Book?
Authors say it time and time again: "We just want to write!" Unfortunately, being a career author today means that you're more than just a writer—you're a businessperson. If you want your book to reach beyond your inner circle, you must consider it a commodity and your craft as a small business. That means talking about yourself and your book will become commonplace (and yes, it means many authors have to step outside their comfort zones!). Effective marketing is the best and easiest way to reach readers, so why wouldn't you want to do it? The answer for many is simple: Marketing is overwhelming (true). It's expensive (not always). You don't know where to start (keep reading).
Paid Services + Self-Marketing
First things first—there are tons of resources and services out there, and it will be part of your job to navigate what you do and don't want to do. Likewise, you'll want to keep a close eye on your budget to see what's worth spending. Not sure? Talk to other authors—they're your lifeline! You can employ many marketing tactics without spending a dime, while others will require payment.
Let's Talk Marketing!
Here are seven things you can do to market your book. Some are easy enough to start today!
1. Create a website
Having an online presence is super important for authors. If someone reads your book and wants to find out more about you and your work, where will they go? To the internet. The first step is setting up a basic landing page with your headshot, book cover, and contact information, which you can gradually grow into a full website with pages, links, and more. It might sound intimidating, especially for the tech-challenged author. However, it's simpler than you might think. Platforms like Squarespace and Wix offer templates and a user-friendly interface even for newbies. Still struggling? Check out YouTube for tutorials!
TIP: Invest in purchasing your domain, which comes off as more professional and legitimate.
2. Create consistent social channels
Like it or not, social media is a must when marketing your book. But here's the thing: You don't have to be on every platform. Instead, choose one or two platforms that are the best fit for you and your audience (For instance, if you're writing YA, that would probably be TikTok. If you're writing for women 40+, that would probably be Facebook). Once you have accounts set up, create a consistent look and feel through color schemes, using the same profile picture, and cross-linking.
Social media is a great—and free—approach for book marketing. Here are a few ideas to get you started:
Introduce yourself and your book
Give a cover/title reveal
Do a Q&A
Give some writing tips
Post an excerpt
"Cast" your characters
3. Start an email list
You know those website pop-ups asking you to sign up for a newsletter? That's email marketing. Consumers will plug in their information, which you can now use and track to build a list of readers. It is a form of direct marketing since the email is sent to someone who is already a fan or reader. Therefore, they are more likely to be engaged with your book/brand. When it comes to building an email list, start small. First, reach out to your friends and family. Next, post a call on social media, asking followers to sign up. Or collect email addresses from people at any book event/signing you have. Then, periodically send out your newsletter, including progress updates, cover reveals, launch dates, behind-the-scenes looks, giveaways, and more. Some authors email more regularly (monthly, for instance), while others reach out less often (perhaps quarterly).
4. Do podcast interviews
Being a guest on a podcast is an excellent way for readers to learn not only about your book but about you as an author. Many writing and genre-specific podcasts accept guest interviews. A simple Google search (or asking around to your writer friends) should give you an excellent list to start. Note: Many podcasts book out months in advance, so if you're trying to time an episode to air around a launch, it's best to inquire ahead of time.
5. Cross-promote with other authors
This is one of the easiest on the list! You have an author community (If you don't, it's time to find one!), so why not tap into it? Perhaps your book is coming out around the same time as someone else's, or several of you are writing in the same genre. Use each other's audiences to help grow your own. Many authors will do newsletter swaps, highlighting each other's work in their email marketing. Or you could team up for a joint giveaway where the winner receives both books. The author world is about being a good literary citizen; more often than not, people are happy to help others succeed.
6. Run a giveaway & promotions
Who doesn't like a discounted (or free!) book? Consider running a promotion on your website or through platforms such as Bookbub (and many others). Most of those sites charge a fee in return for including your book on their promotion list, which goes out to thousands of subscribers. Likewise, sign up for a Goodreads giveaway, during which readers can enter for a chance to win your book. When they do, your book is added to their "Want to Read" list and shows up in people's feeds.
7. Create ads
Online advertising can be very daunting for an author to navigate without the help of an expert, and it can lead to wasted money if not done correctly. However, there are courses (some free) authors can take to learn about running ad campaigns in places like Amazon and Facebook/Instagram. When done well, ads are a great way to get your book in front of more people. However, it's generally not cheap to do so.
This list covers the basics of book marketing but is not exhaustive. There are many creative ways to market your book and grow your author brand. The most important thing is that you do something. Don't let yourself get overwhelmed. Start small, do your research, learn, and grow!