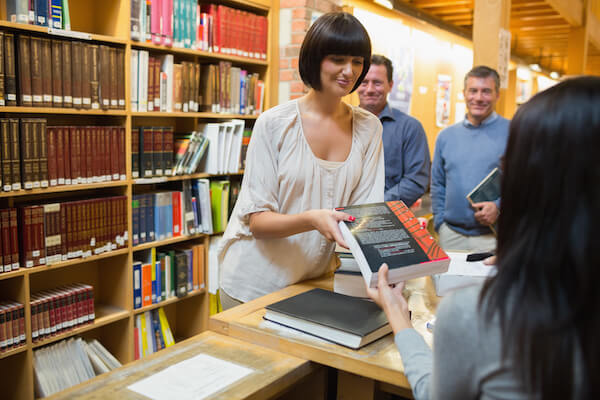 Book signings are a great way to promote your book, but how do you set one up? A successful book signing isn't just thrown together at the last minute—it takes research, planning, and promotion. So let's take a deep dive into book signings: What they entail, why they're important, and how you can set one up for your next (or current) book.
What are book signings, and why should you have one?
Book signings are events where the author meets with readers in person and signs copies of their book. It's an excellent opportunity for readers to get their favorite books signed and ask the author direct questions. For authors, book signings allow for a greater and deeper connection than you might achieve over mediums like social media or even interviews. Some people will knowingly attend the book signing, while others may stumble upon it—another perfect way to capture new readers' attention who didn't have prior knowledge of you or your book. Talking to people in person will always come with an added layer of intimacy. Making those connections is HUGE for authors, but it can be uncomfortable for people who are more shy or introverted. Fear not: signings should be light and enjoyable. Just remember, above all, to be yourself.
So how do you set up a book signing?
You might be daydreaming of standing behind that table full of your books and a long line of excited readers ready to meet you. But hold your horses—you need to take a few critical steps before you're ready to sign copies.
1. Prepare your pitch
Before you contact bookstores and libraries to inquire about hosting a book signing, you need to make sure you have your book pitch—that is, a clear, concise description of your book and why someone should agree to a book signing. It is the time to put on your professional pants (figuratively speaking). Authors who know what they're talking about and are confident and organized will be more likely to impress venues.
2. Reach out to venues—in advance
The key word here is advance. Don't contact a bookstore and ask them to host a signing the following day (or even week). Some may need a month or more to prepare and add you to their event schedule. A good practice is to reach out to venues during your pre-launch timeline. Explain that you have an upcoming release and would love to schedule a book signing after publication. If you have ARCs (advance reader copies), provide the store manager or librarian with one for review. Not only does this show that you're prepared, but that the book is a quality, professional product they'd be proud to endorse/carry.
3. Determine if you'll be providing your own copies
Once you agree on a date, ask the venue if they'll be ordering copies of your book for the signing or whether it's your responsibility to provide the books. You might assume they will have copies ready for you, but that is an assumption you do not want to make. There's nothing worse than an author showing up to their book event and there are no books to sign—ouch! If you will be responsible for bringing copies to the book signing, order them from your publisher well enough in advance.
4. Create book merch
People love free goodies, and book merchandise (or swag) can be a great marketing tool. Consider creating or ordering book merch such as bookmarks, pins, Post-its, etc. Certain genres get very specific, but it's not worth going broke on reader handouts. These are simply fun extras—if you can afford them, excellent, but if not, don't stress about it.
5. Get the word out
It's time to create buzz! You can't expect people to come to your signing without doing a bit of promotion. Blast it out on your social media platforms (and ask the hosting venue to do the same), contact your local media or send a press release, and tell your friends and family to spread the word. You can create a Facebook event where people can respond if they're going and add it to your list of author appearances on your website. The more buzz, the better!
What should you bring to your book signing?
Once the day arrives (yay!), come prepared. Consider how you want your table to look. Is the venue providing a tablecloth? A promotional sign? Or do you need to bring those things yourself? You may wish to have a sign indicating how payment works (this may depend on whether the venue is providing the books or taking a small percentage of your sales). Telling guests how they can pay—cash, card, or another electronic payment like PayPal or Venmo—helps eliminate confusion on their end and keeps the line moving.
Display your books, business cards, book swag, and a newsletter sign-up sheet to capture reader information. Don't forget a couple of quality pens and cash for change (if that's a payment option).
Finally, bring your best smile! Book signings should be fun and enjoyable. Think of it as a chance to market yourself and your book in an approachable way. For many authors, book signings are a benchmark to strive for—and if you're having one, you've reached a significant milestone in your author journey. So congratulations! Now flex those fingers, practice your author signature, and get signing!