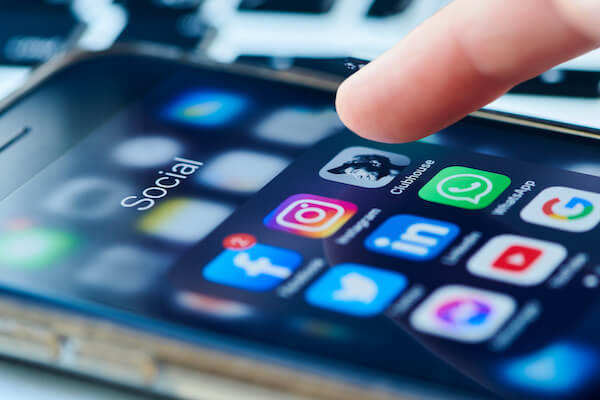 Social media is integral to marketing your book, but it can become overwhelming if you're just starting out. Even if you've used social media for your personal use, approaching it from a business perspective takes a whole new set of strategies. One of the first questions many authors ask is what platform(s) they should use. While there's not a clear-cut answer, there are a few ways you can narrow down the multitude of options:
Ask yourself the following:
What are my ultimate goals when using social media as an author? (Is it to get followers? Grow your newsletter list? Make more sales?)
What do I enjoy most about social media? (Taking pictures? Creating videos? Trying new trends?)
What is the target market of my book? (Primarily age and genre)
What platform is best suited for the genre in which I write?
There are many ways to connect with your readers online, but some social media platforms are more popular and worthwhile than others. Let's break down the most common platforms so you can find the best fit for your author brand.
Facebook
As one of the biggest, Facebook is a great place to start for all genres. Some authors market their books on personal Facebook pages. However, setting up a Facebook Author Page is more beneficial (and professional). You can post content about your book and invite friends to Like the page.
Facebook is full of groups you can join—everything from writer's groups to debut author groups to genre-specific groups. Each group will have its own rules (for instance, some prohibit self-promotion), but they're a great place to network, learn, and find like-minded people.
A major plus to Facebook is that you can share direct links within your post, meaning that anyone can click on the link and go straight to your website or storefront that sells your book. Other platforms don't have this capability, which makes Facebook great for click-through rates.
Instagram
The picture-perfect platform, Instagram, is where all the aesthetically-pleasing content lives. It values physical beauty, so it's a great place to post staged photos and mockups of your book. In recent years, Instagram has placed a heavy weight on videos, including its in-app videos called Reels. If you don't want to put your face on screen or lack the technical savviness to create videos, stick to photo posts or take some time to learn through tutorials.
A subset of Instagram heavily geared toward books, authors, and readers is nicknamed "Bookstagram." Here, influencers post about books they've read or received from publishers/authors. Because many of these accounts have large followings, connecting with bookstagrammers in your genre is advantageous. Sending ARC copies is a great way to create buzz ahead of your launch—just keep in mind that influencers with the largest followings often have a fee for posting content.
Twitter
With limited characters, Twitter is a great way to practice writing concisely. The Twitter writing community is packed with knowledge from writers of all genres looking to connect, share, and support. Use it to build a readership, find fellow author friends, and pitch your work in contests where agents and publishers can find new manuscripts.
A great way to get started on Twitter is to familiarize yourself with common hashtags, such as #amwriting, #writingcommunity, #MSWL, and more. Then, search hashtags to find posts, people, and trending conversations.
TikTok
Perhaps the newest social platform, TikTok, has taken off in recent years thanks to the subculture movement called "BookTok." It's primarily a platform for readers, more so than writers. However, connecting with these influential readers is a key way to gain visibility for your book. Once you find creators who read in your genre, consider connecting and engaging with them, then pitching your book (if you are already published or have ARC copies to send).
Whereas Facebook and Instagram attract the 35+ demographic, TikTok is a Gez Z platform. With that, YA authors may have a better chance of finding success there. In addition, some genres trend higher on TikTok, including Romance (think Colleen Hoover) and Sci-Fi/Fantasy (such as A Court of Thorns and Roses series). That's not to say that all books can't find a place on TikTok—just remember that the users are looking for videos that spur emotion or education, not just sell a product.
Goodreads
The ultimate destination for readers, Goodreads is a place where writers can create an Author Page, list their books, and encourage readers to add their books to "Want to Read" lists. However, it can be harder to build a following on Goodreads than on other social media platforms, so it's a good idea to establish your presence but not invest much of your time and energy there.
If you have a published book or an upcoming launch, consider scheduling a Goodreads Giveaway, where people can enter to win a copy of your book. It is a great way to increase excitement and visibility for your work.
Pinterest
This platform is unlike all the others and is often called the "non-social social network" in that users don't engage with each other. Here, it's an aesthetic compilation of visuals used for inspiration, design, mood boards, etc. It works best for authors with a visual feel to their books—novels with worldbuilding, for instance. Readers who become invested in your book(s) will find delight in continuing the look and feel and bringing the overall vision to life. Authors can link their Pinterest boards to their websites, include snippets in newsletters, or pin specific images to their profiles.
At the end of the day, social media is meant to be fun, never a chore. It's a critical part of today's book marketing, but the control is in your hands to choose which platform(s) make the most sense for you and your brand. Some sound advice is to choose one or two and do them well rather than skim the surface of too many.